$

40.00

$40.00
Casein+
|
Protein Powder
IT'S-ON-US

MONEY-BACK GUARANTEE

Many companies offer a money-back guarantee because they know the majority of dissatisfied customers aren't going to go through the hassle of actually returning the product to get their money back.

We don't play these games because we don't have to, the quality of our products and services makes it unnecessary.

If you order any of our products or services and don't like it, just notify us and we'll give you a prompt and courteous refund on the spot. No complicated forms or hoops to jump through.

To protect ourselves from fraud, the It's-On-Us guarantee is only valid for first time purchases of supplements, and redeemable up to three months after purchase. If you bought more than one bottle of a supplement on your first purchase and don't like it, we would ask that you send the unopened bottles back to us for a refund because we can put them back into our sellable inventory.
We insisted on making CASEIN+ as clean and pure as possible.
That's why it's naturally sweetened and flavored 100% micellar casein protein with no GMOs, MSG, hormones, artificial food dyes, or unwanted fillers or chemical junk.
It's also made from exceptionally high-quality, minimally processed milk from small dairy farms in Ireland.
What's more, CASEIN+ tastes delicious, mixes great, and is packed with essential amino acids, including leucine.
So, if you want an all-natural, delicious casein protein powder that's not only good for recovering from your workouts and gaining muscle and strength but also good for your long-term health, you want CASEIN+.
WHAT THE EXPERTS SAY
What the Industry Experts Are Saying About LEGION
Previous
Dr. Spencer Nadolsky

Author and founder of FatLossPrescription.com and LeanerLiving.com

"There are a lot of sleazy supplement companies out there, but Legion is not one of them. Their products are free of fillers and inactive ingredients and they take the time (and money) to test them with independent labs to ensure you're getting what you pay for."

Ben Greenfield

NYT Best Selling Author and Ironman Triathlete

"Mike makes clean products. Period. His Legion line is something you can consume guilt-free, without any hidden fillers, artificial sweeteners or chemicals. Better yet, it's designed not just for adequacy, but for performance. I highly recommend."

Greg O'Gallagher

Founder of Kinobody

"LEGION really is a top-notch supplement brand and I'm thoroughly impressed with the quality and integrity of their products and their no hype and no pseudo-science' approach. If you're thinking about taking supplements, this is a company you can trust."

Chad Howse

Founder of Chad Howse Fitness

"I'm big fan of LEGION's. One of the few companies I'd highly recommend for anyone looking to get real results while not wasting any money."
Next
Ingredients & Use
Milk Chocolate
French Vanilla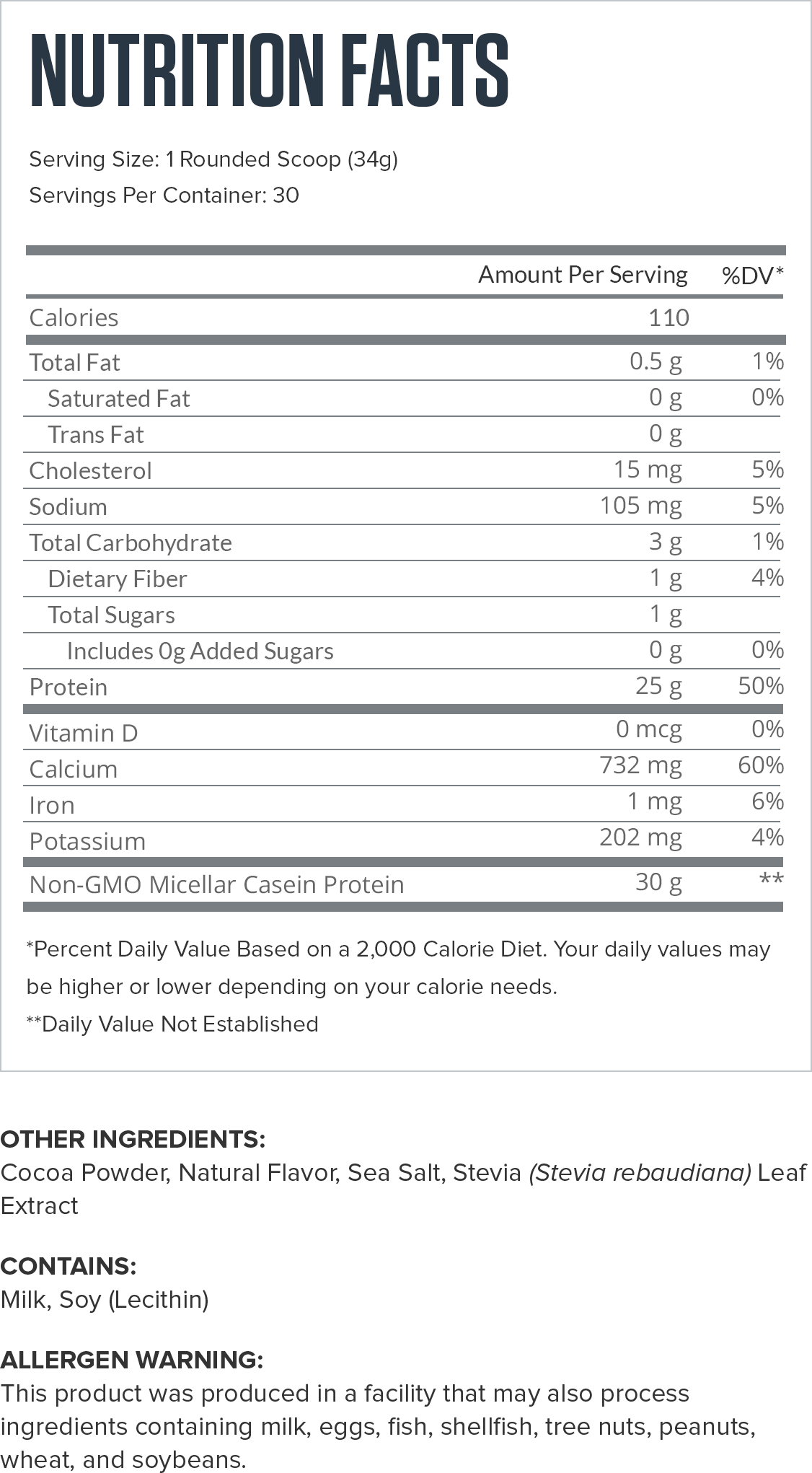 Directions
As a dietary supplement, mix 1 serving with 8-10 oz of water, milk, or your favorite beverage.
Warning
Not intended for persons under the age of 18. Do not use if pregnant or nursing. Consult a health care professional prior to consumption if you have any pre-existing medical conditions or are taking any prescription medication. Improper use of this product will not improve results and is potentially hazardous to a person's health. Use only as directed.
KEEP OUT OF REACH OF CHILDREN. STORE IN A COOL, DRY PLACE. DO NOT USE IF SAFETY SEAL IS BROKEN OR MISSING.
CASEIN+ Is 100% Micellar Casein Protein

As far as types of casein protein go, you have two choices:

Calcium caseinate
Micellar casein

Calcium caseinate is a form of casein processed to improve mixability.

Micellar casein is a higher-quality form produced in a way that preserves the small bundles of protein (micelles) that are responsible for its slow-digesting properties and often destroyed during traditional manufacturing processes.

This is why research shows that micellar casein is digested slower than calcium caseinate, making it especially beneficial for prebed use.

Thanks to the outstanding quality of micellar casein protein, CASEIN+ has a stellar amino acid profile, providing you with 13 grams of essential amino acids—including 3 grams of leucine, the amino acid most responsible for initiating protein synthesis—per serving.

CASEIN+ hasn't been "amino spiked," either, which is a common way that protein manufacturers and sellers rip consumers off.