$

35.00

$35.00
Recharge
|
Post-Workout
IT'S-ON-US

MONEY-BACK GUARANTEE

Many companies offer a money-back guarantee because they know the majority of dissatisfied customers aren't going to go through the hassle of actually returning the product to get their money back.

We don't play these games because we don't have to, the quality of our products and services makes it unnecessary.

If you order any of our products or services and don't like it, just notify us and we'll give you a prompt and courteous refund on the spot. No complicated forms or hoops to jump through.

To protect ourselves from fraud, the It's-On-Us guarantee is only valid for first time purchases of supplements, and redeemable up to three months after purchase. If you bought more than one bottle of a supplement on your first purchase and don't like it, we would ask that you send the unopened bottles back to us for a refund because we can put them back into our sellable inventory.
Together, the clinically effective dosages of creatine, L-carnitine L-tartrate, and corosolic acid boost muscle growth, strength, anaerobic endurance, and post-workout recovery, and reduce muscle soreness.
Furthermore, RECHARGE doesn't need to be cycled, which means it's safe for long-term use, and its effects don't diminish over time. It's also naturally sweetened and flavored and contains no artificial food dyes, fillers, or other unnecessary junk.
All that is why it has over 650 reviews from customers on Amazon.com with a 4.5-star average, and another 260+ on our websites, also with a 4.5-star average.
What RECHARGE is not, though, is cheap, so if you're concerned about the price, I understand--you can get a post-workout supplement for a bit less. Remember that you get what you pay for, though, so generally speaking, the cheaper a supplement is, the less effective the formulation.
And if you're still a bit skeptical of trying something new or if you've just been let down by post-workout supplements one too many times in the past, you're definitely not alone, and I have good news for you:
Place your order now and if you don't absolutely love RECHARGE, just let us know and we'll give you a full refund on the spot. No complicated forms and no return necessary.
You really can't lose, so order now and get ready to push more weight, gain more muscle and strength, and enjoy less post-workout soreness.
Ingredients & Use
Fruit Punch
Unflavored
Watermelon
Strawberry Lemonade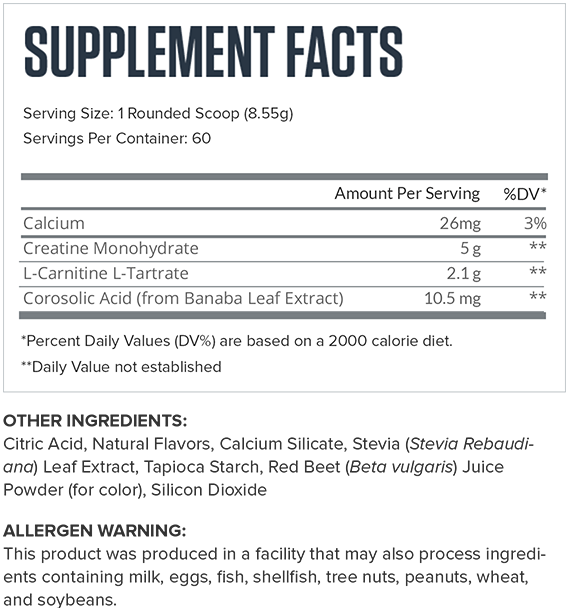 Creatine is a substance found naturally in the body and in foods like red meat and is the subject of over 200 clinical studies.

Research shows that supplementation with creatine...

And in case you're worried that creatine is bad for your kidneys, these claims have been categorically and repeatedly disproven. [15] [16]

In healthy subjects, creatine has been shown to have no harmful side effects, in both short- or long-term usage. [17] [18] [19]

People with kidney disease are not advised to supplement with creatine, however [20]

Due to creatine's proven effectiveness and safety, we believe that everyone engaging in regular resistance training or high-intensity cardiovascular exercises should supplement with it.

The most common clinical program for creatine supplementation is a loading period, followed by 3-5 grams per day. [21]

EACH SERVING OF RECHARGE CONTAINS 5 GRAMS OF CREATINE MONOHYDRATE

L-Carnitine L-Tartrate

2.1 g

Carnitine is a compound that your body produces from the amino acids lysine and methionine. It plays a vital role in the generation of cellular energy, and L-tartrate is a salt used to increase the absorption of other nutrients.

Research shows that supplementation with L-carnitine L-tartrate...

Improves muscle repair [25]
Improves insulin sensitivity [26]

The clinically effective dosage of L-carnitine L-tartrate is 1 to 2 grams per day. [27]

EACH SERVING OF RECHARGE CONTAINS 2.1 GRAMS OF L-CARNITINE L-TARTRATE

Corosolic acid comes from the leaves of the banaba plant.

Research shows that supplementation with corosolic acid improves blood glucose control and enhances the signaling of insulin, thus magnifying the effects of post-workout carbohydrate consumption. [28] [29]

The clinically effective dosage of corosolic acid is between 10 and 15 mg. [30]

EACH SERVING OF RECHARGE CONTAINS 10.5 MG OF COROSOLIC ACID PER SERVING
Directions
Take 1 scoop daily with your post-workout meal. On non-training days, take with your largest meal of the day. For optimal results, take every day.
Warning
Not intended for persons under the age of 18. Do not use if pregnant or nursing. Consult a health care professional prior to consumption if you have any pre-existing medical conditions or are taking any prescription medication. Improper use of this product will not improve results and is potentially hazardous to a person's health. Use only as directed.
KEEP OUT OF REACH OF CHILDREN. STORE IN A COOL, DRY PLACE. DO NOT USE IF SAFETY SEAL IS BROKEN OR MISSING.
WHAT THE EXPERTS SAY
What the Industry Experts Are Saying About LEGION
Previous
Dr. Spencer Nadolsky

Author and founder of FatLossPrescription.com and LeanerLiving.com

"There are a lot of sleazy supplement companies out there, but Legion is not one of them. Their products are free of fillers and inactive ingredients and they take the time (and money) to test them with independent labs to ensure you're getting what you pay for."

Ben Greenfield

NYT Best Selling Author and Ironman Triathlete

"Mike makes clean products. Period. His Legion line is something you can consume guilt-free, without any hidden fillers, artificial sweeteners or chemicals. Better yet, it's designed not just for adequacy, but for performance. I highly recommend."

Greg O'Gallagher

Founder of Kinobody

"LEGION really is a top-notch supplement brand and I'm thoroughly impressed with the quality and integrity of their products and their no hype and no pseudo-science' approach. If you're thinking about taking supplements, this is a company you can trust."

Chad Howse

Founder of Chad Howse Fitness

"I'm big fan of LEGION's. One of the few companies I'd highly recommend for anyone looking to get real results while not wasting any money."
Next